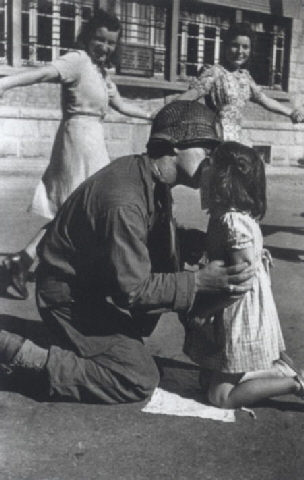 Above
Artist - Tony Vaccaro
Title - The kiss of liberation
Medium - Gelatin Silver Print
Size - 23.8 x 17.6 in. / 60.5 x 44.8 cm.
Year - 1945
Misc. - Signed, Inscribed
Go to OurLIC News: Photographer Tony Vaccaro Filming PBS Special on D-Day, June 6, 1944

Tony Vaccaro, Journalist and Photographer
Tony Vaccaro (b. December 20, 1922), is an American photographer who is best known for his photos taken in Europe during 1944 and 1945 and in Germany immediately after World War II. After the war, he became a renowned fashion and lifestyle photographer for U.S. magazines.
An exciting retrospective presented by The Cultural Association of the Molise Region in America, Universitas Civium Oratino, is in Astoria and is not to be missed!
The CAMRA is particularly proud to sponsor this exhibit not only because of the extraordinary quality of his photographs (as you can see from the photo of a young Sophia Loren) but also because Tony's roots are from Bonefro, a city in Molise, Italy.
Tony is a long time resident of Long Island City. After 30 years in Manhattan, Tony moved to LIC to get away from the distraction when he began to do more writing than photography. His cousin, Joe Pavonetti, "a great local tailor" (Passes away in 1992), invited him for lunch in LIC. In 1994 he took an apartment here for four reasons. "I was close to my clients in Manhattan.....It was peaceful for me to write...It was cheaper than my condo upkeep in Manhattan...I have been happy ever after".
The Exhibition will remain open at the The Buzzeo Building Gallery all day from 2-7 PM. until the January 17th. You may be able to visit there with Tony Vaccaro by appointment, and he will share anecdotes about select pieces in the exhibit.
The Buzzeo Building Gallery is at 31-16 36th Avenue in Long Island City, NY, 11106. The gallery can be easily reached by subway by taking the N or W train to 36th Avenue. The exhibit is 1/2 block from the subway.
We hope you will be able to join us .
Reference:
Cav. Alfredo G. Brunetti, President
Cultural Association of Molise Region in America
Universitas Civium Oratino
Cell: 1-917 734-8964
Go to OurLIC News: Photographer Tony Vaccaro Filming PBS Special on D-Day, June 6, 1944